in the kitchen with…
Teresa Brittain
A short retirement for the longtime owner of the Valley Junction General Store.
Story by Carol McGarvey
Photography by Ben Lochard
Featured in April/May 2020
Try her Recipes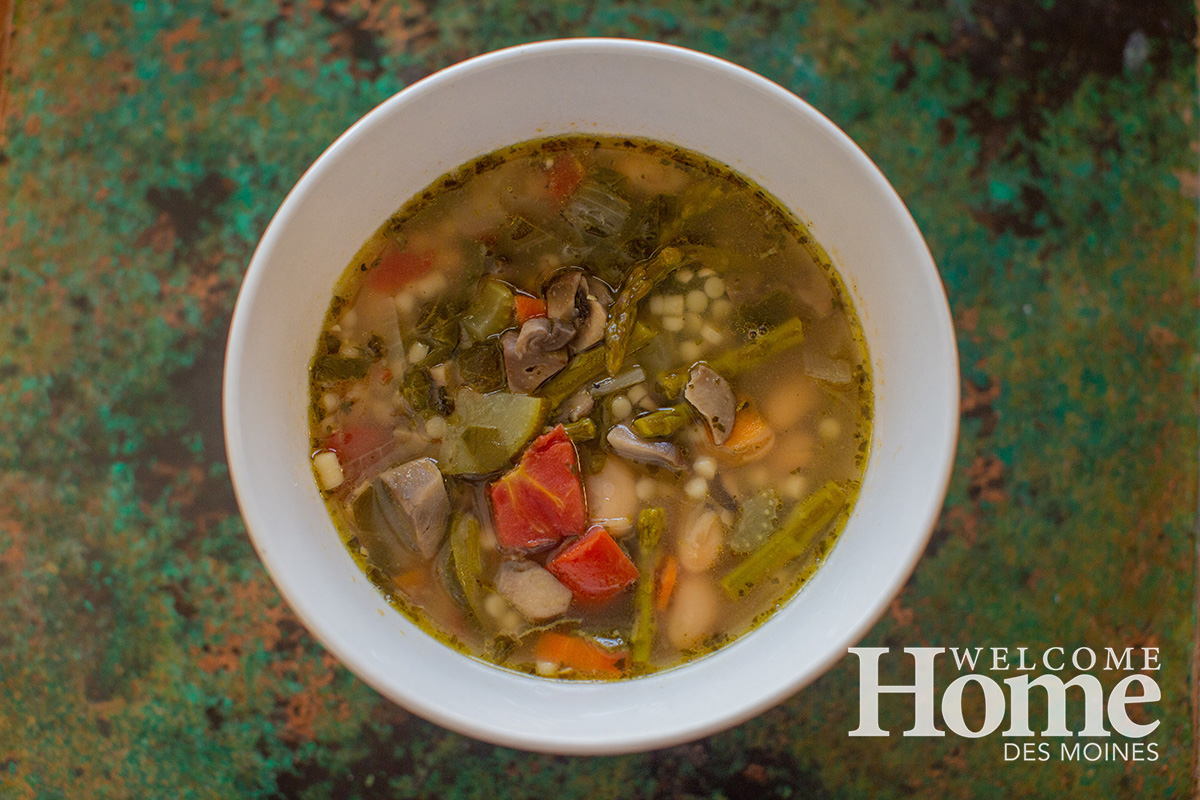 Share!
Everyone has a story, and we hope you will help us tell the tales of a variety of Des Moines cooks. Please send us your ideas. Tell us the names, contact information, and a little about your cooking friends. Contact us!
Friends and fans of Teresa Brittain, who tirelessly operated the General Store Eatery for 20 years, will not be surprised at this revelation. After only a one-month retirement, she took another job.
In a touch of serendipity, it happened so innocently, she says. "We were selling all the equipment and the antiques that decorated the store. A woman, Tracy Adamson, came to look at some equipment. I asked what sort of place she had," Teresa explains. "She said she and her husband, Jeff, had purchased the Hiland Park Bakery, which has been open since 1946." Since the general store had been in operation for 50 years, the two had a bond of time-honored institutions.
Loves reactions
Teresa surely was familiar with the spot. Before the transaction was over, Tracy had hired her part-time to run the cash register and the front of the bakery. Teresa now works three days a week from 5:30 a.m. to noon. "I love the reaction when some of our Valley Junction customers walk in the bakery and see me there," she says.
What's also intriguing is that the Adamsons plan to open up the other side of the bakery for a soup-and-sandwich spot in the spring.
Teresa fell in love a long time ago with the general store. "I had worked 22 years at Delavan in West Des Moines. I had only 30 minutes for lunch, so I would call the general store, place my order, and owner Betty Gordon would have it ready for pickup when I got there." Mark Veiock of West Des Moines had opened the then-named Valley Junction General Store in 1970.
"One day Betty told me she was going to put the lunch-only spot on the market. I told her I had always wanted a business like this, only I wanted this spot." She took over in February of 2000.
Growing up in Des Moines as an only child, Teresa enjoyed her father's cooking and her mother's baking. With the help of Robin Renda, who did most of the baking, Teresa got her fix.
Fan favorites
At the general store, patrons loved some 40 to 50 kinds of soup, numerous steamed sandwiches (especially the Reuben and various roast beef ones), plus baked items, particularly five or six fruit crisps. The Monday soup special, Cheeseburger Chowder, was a fan favorite.
"I loved knowing entire families who came in for lunch," Teresa says. "And when those children grew up and brought in their children, well, that was just the best." Patrons also hosted special-occasion meals, such as for birthdays, showers, even small memorial meals after a funeral.
Her own family—husband, Kim, who owns a concrete firm; son, Jeff; and daughter, Liza—also helped out at the store when needed. There are three grandchildren, too, ages 5, 3, and 2.
While she didn't always know everyone's name, she often did know their lunch orders. "Many people have said the General Store Eatery was a little like the old 'Cheers' bar on television. It was just a comfortable place to visit, meet friends, and enjoy food."
She misses it but says the bakery has some of the same vibe, with people coming in for food that makes them happy. Like the police officer and their proverbial donuts.
"I need to be around people," says the veteran foodie. "It's just fun." •