in the kitchen with…
Kay Fenton Smith & Carol McGarvey
Two Des Moines authors take a look at the bountiful history of the Food Department competitions at the Iowa State Fair.
Story by Carol McGarvey
Photography by Ben Lochard
Featured in July/August 2022
Try Their Recipes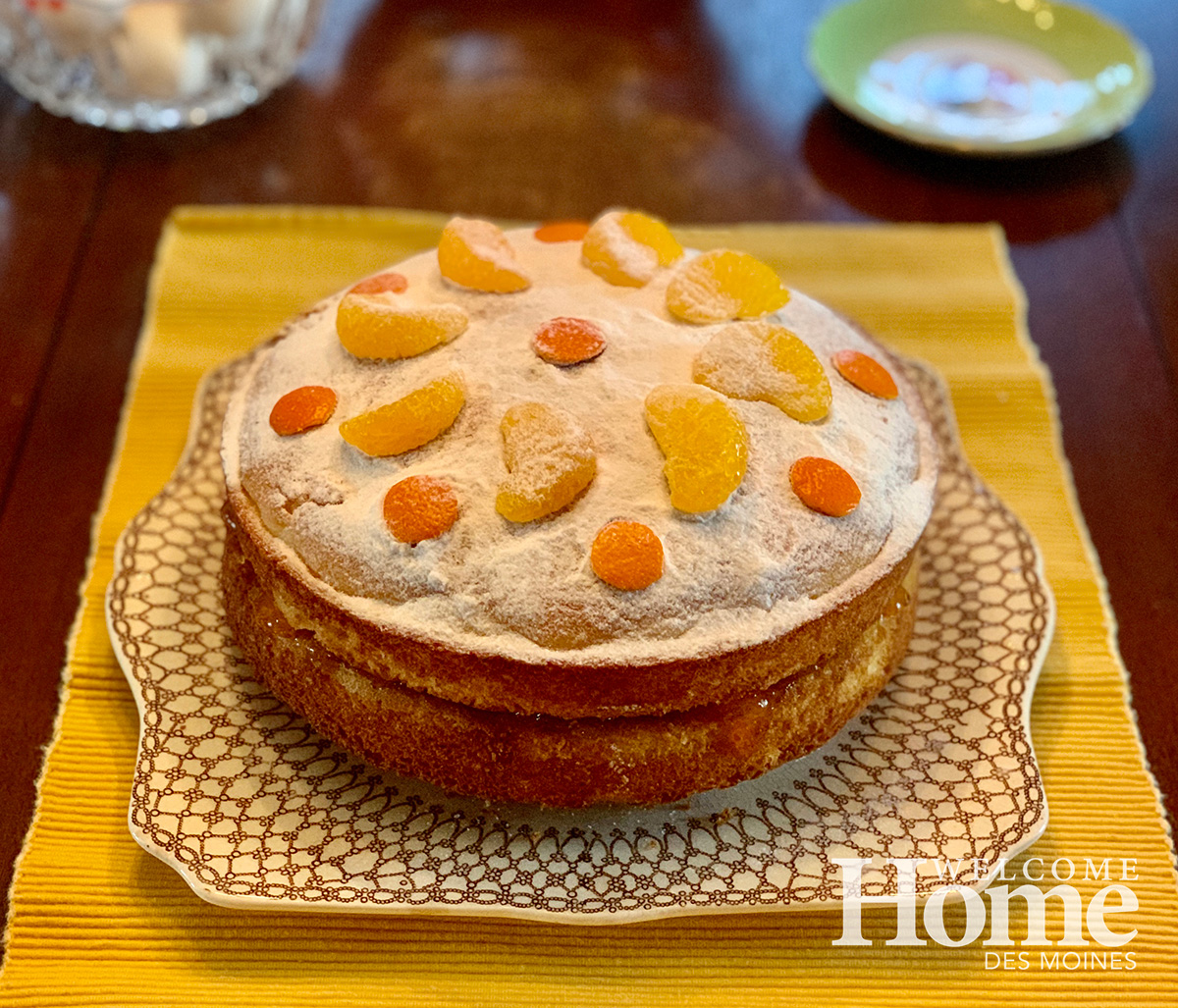 Get the book!
For ordering information:
Proceeds from the book will benefits the Iowa State Fair Food Department.
To preorder the book, contact the Blue Ribbon Foundation, P.O. Box 57130, Des Moines, IA 50317; 515-262-3111 ext. 371. At the Fair, the book will be available in the Elwell Family Food Center and at other spots on the Fairgrounds where Fair items are sold. After the Fair, contact the Blue Ribbon Foundation, Beaverdale Books, and other book and gift stores around the state.
Are you aware that there has never been a comprehensive history written about the Iowa State Fair Food competitions? Two Des Moines authors, Kay Fenton Smith and yours truly, Carol McGarvey, are remedying that in a new book, Baking Blue Ribbons.
Starting with the first Fair in 1854, we tell you the tales of the Fair that moved around for many years before settling at its current location on the east side of Des Moines. We bring the history, the up-close and personal stories of competitors, and 160 old and new recipes in one book. We cover the food world of the Fair and of the Midwest experience.
Kay has competed and won ribbons at the Fair for more than a decade. I have been a judge for 36 years. Together, we bring you a lively portrait of the Fair from all directions from our marketing and writing backgrounds.
Kay Fenton Smith
Kay is a native of upstate Cazenovia, New York, Kay attended Cornell University in Ithaca, New York. Her first job was in advertising at Leo Burnett, U.S.A., then as national marketing manager for Hyatt Hotels business travel. She met her husband, Elliott, in Chicago. They jumped at the chance to move to Des Moines in 1995. She became the marketing manager for Better Homes & Gardens Real Estate Service at Meredith Corp.
"I fell in love with the Iowa State Fair and its incredible Food Department," she says. "I have entered and won ribbons in cakes, pies, scones, and quick breads. In 2021 I took a leap and ventured into a new division and was shocked when my Feta Tomato Pasta Bake won the Dreamfield's Pasta contest."
As much as Kay loves to cook, baking is her true culinary passion. "For me, working with dough, pies, and creating cakes of all kinds is a creative challenge," she says.
Carol McGarvey
A native of Boone and Perry, Iowa, I am a proud graduate of Iowa State University with a B.S. in home economics journalism. This year will mark my 37th year as a food judge. I started as part of my job as a features reporter for The Des Moines Register.
There were 98 cakes that first year, and my judging partner was a pregnant food editor at Meredith Corp. After her third time of having to go behind the curtain to be sick from a sugar high, I suggested that she should leave. As I say in the book, I told her she wasn't being fair to her baby, to herself, and certainly not to the cake bakers.
It took a long time to finish the judging by myself. It also was a long time until we had cake again at our house.
Over the years, I have judged Nestlé Choco-Bake creations, Hy-Vee meat-of-Iowa casseroles, junior cookies, and a College Kids Cook competition. For the past 15 years or so, I have helped judge the Souper Soups contest for Welcome Home Des Moines magazine, for which I am a freelance writer.
I, too, love to bake, from Coca-Cola Cake, a family birthday favorite, to my signature chocolate chip cookies. I delivered those for 17 years to EveryStep Kavanagh House on 56th Street in Des Moines as a "cookie lady." I did that to honor my mother until COVID-19 shut down homemade items. I make numerous recipes of Pumpkin Bread each winter. I deliver umpteen breads to neighbors and friends for holiday gifts.
When I think of the Food competitions at the Fair, I think of dedication, passion, and friendships. So many of the entrants keep in touch all year and help each other on special occasions, with new recipes, and in times of need. It is fun to watch all that play out.
See you at the Iowa State Fair. •