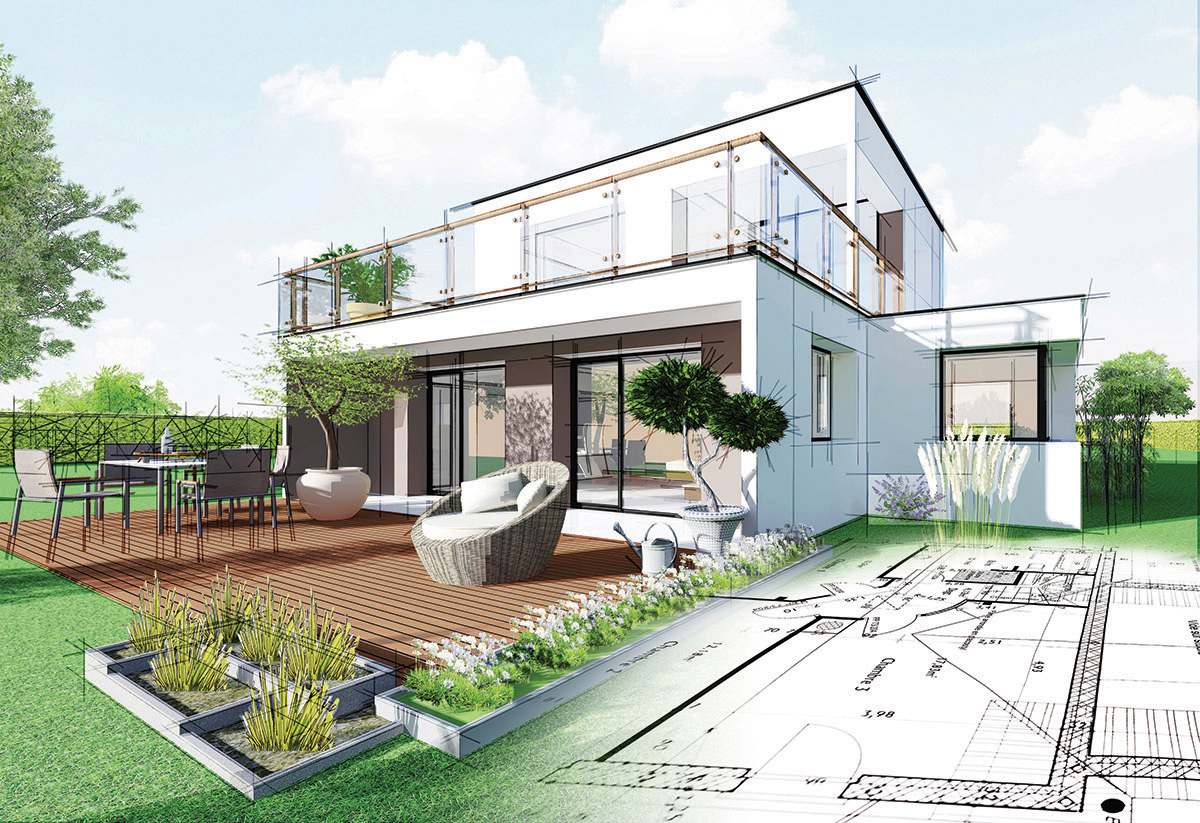 Home plan trends reflect a changing market.
Story by Tracy Dickinson
Featured in Autumn 2023
Along with trends in style and decor, homes change in layout and features as lifestyles change. Today's home plans are a reflection of that.
Trending: Rising Costs
As the price of everything from land to materials has increased over the past several years, homeowners have been looking for ways to use their budgets as effectively as possible.
According to Randy Milder at Plum Design Services, those rising costs affect both who is building new homes as well as what type of homes are being built.
"The average price of a new home is over $450,000," he says, "and that's made it almost impossible for first-time buyers to build. It's doubled the monthly payment on a new home from where it was two years ago."
Because of that, most of Plum's clients are move-up buyers who have the equity and budget to build the home they've dreamed about for years.
Even custom homes are trending smaller. "About half our plans have been getting a bit smaller and more economical," says Beisser Lumber's Amy Larsen. "We've been balancing square footage with budget and helping clients rethink wants and needs so they can build what is truly important to them."
Trending: Working Remotely
Since the COVID pandemic, a greater number of Americans are spending at least a portion of their week working from home. That's resulted in more home plans that include home office space. "We've even had some clients looking for multiple office spaces," Milder says, "either full offices or at least a second flex room or pocket office."
As life has settled into a post-COVID routine, hybrid work schedules are more typical, so more home designers are focusing on multipurpose work spaces that offer more homeowners more flexibility. "We still see home offices," Larsen says, "but it depends on the client. Sometimes a multiuse space is more appropriate, with an office that could also be a guest room, for example."
Trending: Changing Families
Statistically, Americans are having fewer children, but older Americans are living longer. Those factors have had an effect on home layouts.
Larsen says the average number of bedrooms and bathrooms hasn't changed although the arrangement may have. "Most plans still include three bedrooms and two bathrooms on the main level," she says. "Sometimes the kids' bedrooms will have a Jack-and-Jill bath, and the home will add a half bath for guests."
Garage designs have also changed to reflect the changing family. Even when lot sizes are smaller and square footage has decreased, garage space has not. Larsen says, "We've actually seen an uptick in garage size. This seems contradictory with lots getting smaller in some communities, but people have larger vehicles, and they want the space to store them."
One way home designs are adapting to this trend is in the garage placement.
"We'll often try to have a side-load garage or a combination front-load and side-load so the garage doesn't dominate the front elevation," Milder says. "This also allows us to include more windows, which adds to the home's curb appeal."
Trending: Comfort with Style
Probably the most dominant element in home design is the desire for both comfort and style. As families spend more time at home working, entertaining, and relaxing, homeowners are looking for ways to use their space efficiently while creating a space they truly enjoy.
That's resulted in home plans that create functionality in multiple ways.
"We always work to incorporate a mudroom of some sort," says Larsen. "Some clients need closet space or some sort of built-ins. Others are looking to include laundry space. It just depends on their specific needs."
Milder says, "We've had more clients who are looking for a combined laundry room/mudroom, but they want it to be more spacious. They want plenty of room for a real laundry area, so we often have one side of the space designated for the appliances and cabinetry and the other side with built-in lockers or closets."
He says another feature that's become standard in today's home plans is the walk-in pantry. "With homes and living spaces more open, homeowners want the kitchen to be less cluttered. A separate walk-in pantry can give them storage for everything from groceries to small appliances."
Home trends are affecting the outside as well as the inside of the home.
"We're seeing more covered decks as part of the original home plan," Larsen says.
Milder says, "We've also had more clients who want a plan that includes a front porch. The Craftsman style is still popular, and a lot of homeowners just like the look of a home with a front porch."
Both Larsen and Milder say that even with trends affecting the majority of home plans, each project is still unique.
Milder says, "Even if we start with a stock plan to save them time and money, the final plan is unique because we've adapted it to fit that client's wants and needs."
"It's always a compliment when a homeowner trusts us to design their home," Larsen says. "We want them to be happy and comfortable, so listening to them and respecting their requests is the best way to make that happen."
That's one trend that hasn't changed. •
Resources
Amy Larsen, Beisser Lumber
Randy Milder, Plum Design Services