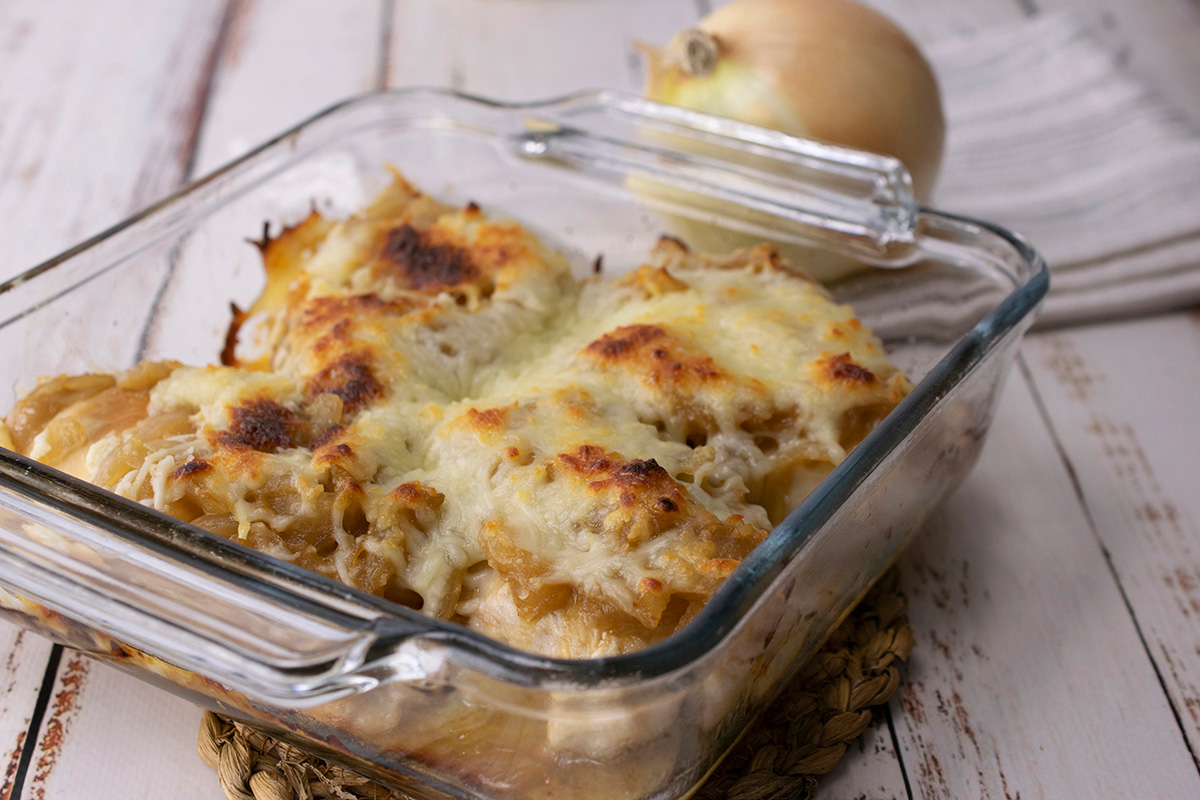 French Onion Baked Chicken
Photography Courtesy South Texas Onions
Featured in Spring 2023
Ingredients
1 tablespoon olive oil
4 boneless, skinless chicken breasts
CARAMELIZED ONIONS:
2 tablespoons butter
1 tablespoon olive oil
3 medium sweet onions, sliced
½ teaspoon salt
2 sprigs fresh thyme
3 garlic cloves, minced
1 tablespoon balsamic vinegar
1 tablespoon Worcestershire sauce
2⁄3 cup beef broth
2 teaspoons Dijon mustard
1 cup shredded mozzarella, Gruyère, or Fontina cheese
Instructions
Preheat oven to 400°F. In a large pan over medium-high heat, heat the oil. Sear chicken breasts 2 to 3 minutes on each side. Remove from pan.
To make caramelized onions:
In separate pan over medium-high heat, heat the butter and olive oil. Once butter is melted and bubbling, add onions. Let sit 5 minutes.
Turn heat to low and cover onions. Cook 20 minutes, stirring halfway through.
Stir in salt, fresh thyme, and garlic; cover onions. Cook 10 minutes.
Stir in balsamic vinegar, Worcestershire, beef broth, and Dijon mustard. Cover and cook 10 to 15 minutes or until onions are brown. Stir onions every 10 minutes.
Place chicken breasts in a greased baking dish. Top with onions, then cheese. Place any additional onions in bottom of dish.
Bake 30 to 35 minutes or until chicken reaches internal temperature of 165°F. Makes 6 to 8 servings.
Recipe courtesy South Texas Onions