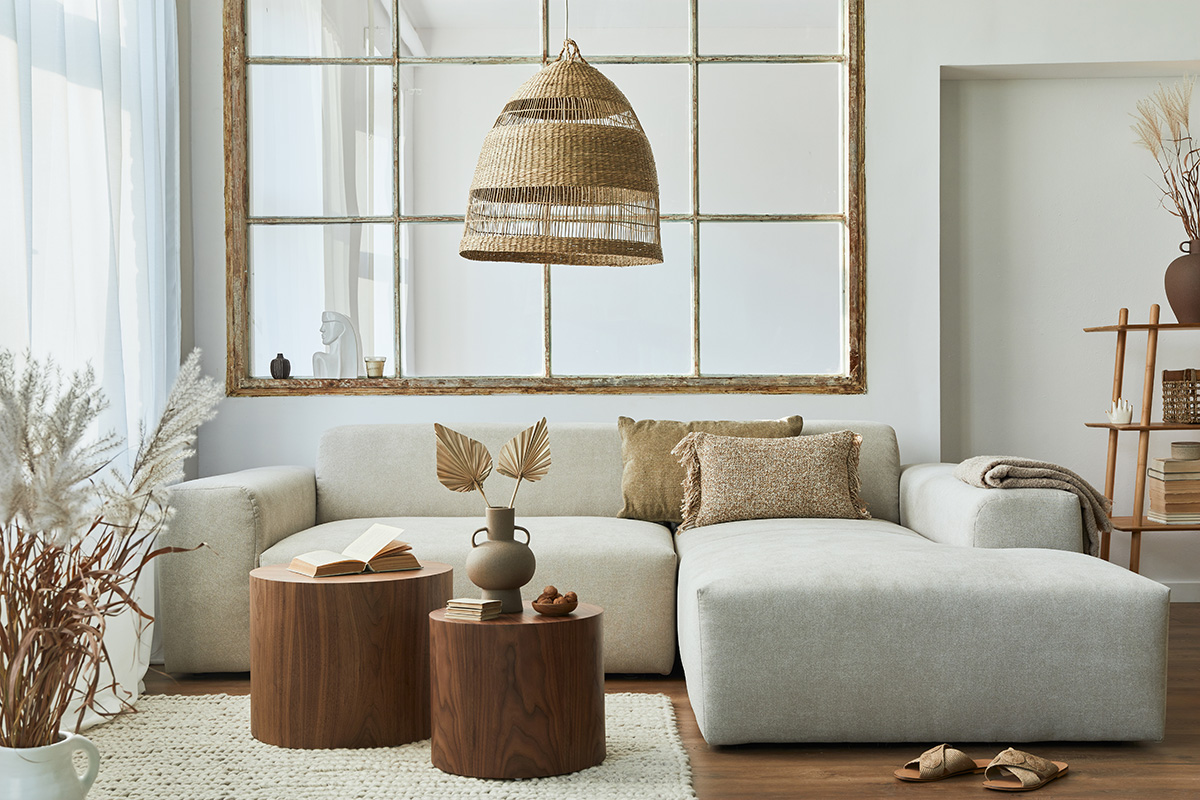 Bring the beauty of autumn into your decor.
Story by Tracy Dickinson
Featured in September/October 2021
September might be too soon to break out the holiday decorations, but redoing your decor to reflect the changing seasons can give your home a fresh look throughout the year.
Our local designers offer some tips for bringing the beauty of fall inside.
Add fall color
Updating your home's style for fall doesn't have to mean pumpkin orange.
"You can still add pumpkins for fall without using orange," says Mindy Seeman of Forget Me Not in Ankeny. "You can find decorative pumpkins in white, even marbled styles to get that look without the bright orange."
Trieste's Meredith Beattie says, "Whites are trendy now, so bringing in elements of white can soften the look for fall. Adding sage green or hints of black provides a seasonal look, too."
Other shades such as rusts, browns, and earth tones add autumnal warmth and a splash of color to an otherwise neutral color scheme. Beattie says, "The new green we're seeing a lot of right now is a sagey hunter green, which is perfect for fall and even Christmas. Red-oranges are also popular, just in time for fall—colors like terra-cotta and paprika."
In addition to seasonal colors, prints and patterns can bring autumn indoors. "Incorporating patterns like buffalo check and plaids can carry the look right into the holidays when you bring out the Christmas decorations," Beattie says.
Incorporate texture
"Texture is huge right now, so this is a great time to play with different textures and bring in some new elements to see what works and what you like," Seaman says. She suggests adding a natural jute rug, which complements the seasonal colors, or incorporating some different metal finishes.
"Mixing metals and finishes adds texture," Beattie says. "A combination of accents in gold, silver, antique bronze, or black works year-round, but fall is a perfect time to start adding those to your decor."
Foliage is another easy way to add texture, Seeman says. "Decorative grasses and plants add texture, and you can change those out with the seasons, too. Instead of greens, use browns, rusts, and yellows, then switch them out for the holidays or for spring."
"A bouquet of fresh autumn flowers or an arrangement in seasonal colors is an easy place to add texture," Beattie says.
With the popularity of luxury vinyl product (LVP) and hardwood flooring, rugs are even more key to a room's design. They're also an ideal way to bring in seasonal colors and textures.
"Typically I recommend starting with the rug and building the rest of the room around that," says Beattie. "But whenever you select a rug, it's important to get the right size and to include a rug pad." She says most homeowners select a rug that is smaller than the room needs.
"The front legs of each piece of furniture should be on the rug," she explains. "And the pad will not only protect your floors, it will provide cushion so the floor is more comfortable."
Switching accent rugs with the seasons allows you to add texture and color. "More manufacturers are offering printed patterns rather than woven designs," Beattie says. "That means it's less expensive to bring in those fun prints."
Accessorize
You don't have to redecorate your entire home to make it feel like fall. Bringing in new accessories can provide a fresh look without breaking the budget.
"A great place to start is with the soft structures," Seeman says. "Pillows on chairs and throws on the couches can add fall color and warmth."
Beattie says, "Printed pillows with fall images and colors are popular right now. You can even find velvet pumpkins in a variety of shades, which add color, texture, and accent all at once."
"If you have an accent vase or bowl with lemons and limes for summer, exchange those for pumpkins or gourds," Seeman suggests.
Beattie says, "Decorative wall decor, especially in black and white, is a wonderful accent for fall."
Seeman says that most homeowners see artwork as an investment, so that's not something they want to change with the seasons. "Other hanging accents can be brought in or out, like the decorative elements on the front door," she says.
As activity moves indoors with the cooler weather, seasonal colors, textures, and accessories not only reflect the beauty of fall, they can add a fresh look to your home's decor to welcome guests and the new season. •
Resources
Mindy Seeman Forget Me Not
Meredith Beattie Trieste