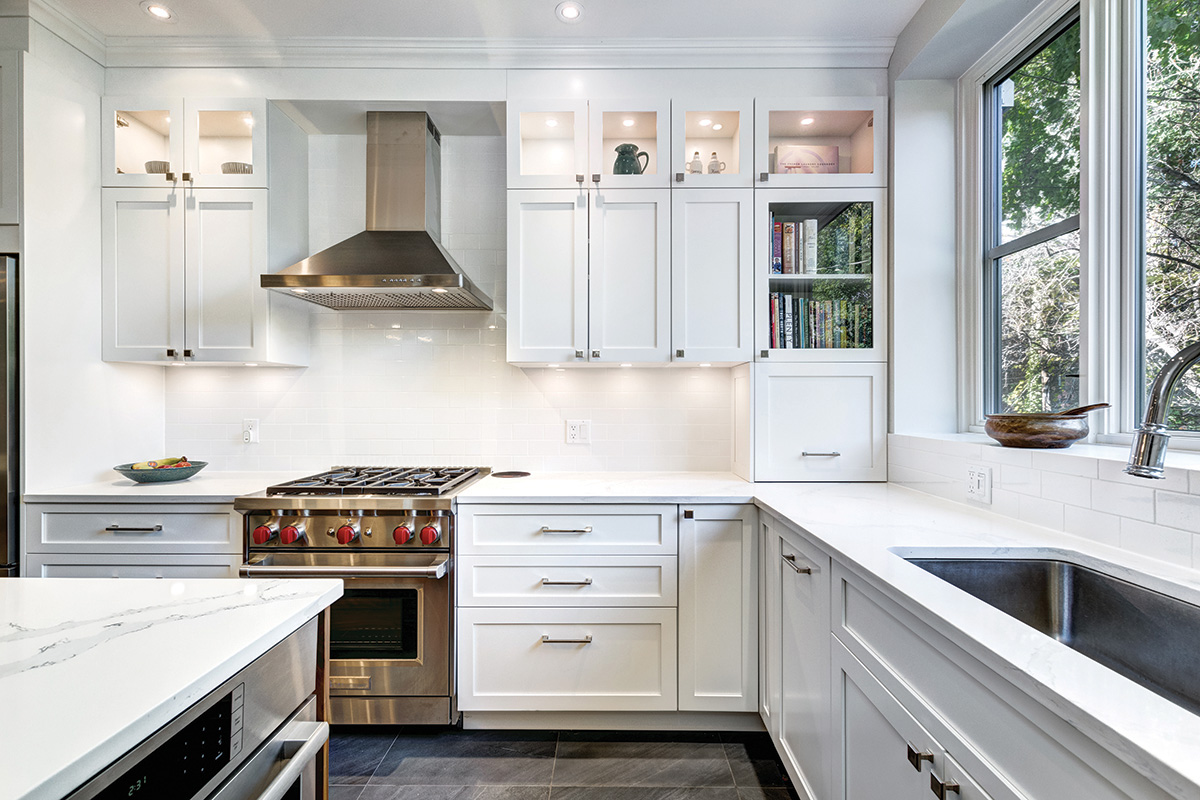 Using your budget wisely in the kitchen and bath is a blend of form and function.
Story by Tracy Dickinson
Featured in April/May 2020
Statistically, kitchens and bathrooms are the two most commonly remodeled rooms in the home. Updates in these spaces offer the greatest return on investment financially. And they also provide the greatest return when it comes to comfort.
Whether you're remodeling with the intention of creating your forever home or you're designing a new home, using your budget wisely in these two spaces has as much to do with function as it does with fashion.
The Kitchen
Even on a budget, there are items that should not be sacrificed. One of those is fixtures—and their installation.
"There's a big difference between a faucet purchased at a box store and a faucet purchased from a professional contractor supplier," explains Rob Walker of BLC Projects. "Box store products are often designed with cost savings in mind. But a professional supply house has higher-quality fixtures that a professional plumber will stand behind if something goes wrong."
This doesn't mean you have to choose the highest-priced faucet available. But if you're watching your budget, professional-quality fixtures installed by a skilled plumber are worth the financial investment.
Another area that's not worth compromising is cabinetry.
"If I have a client that's really watching their budget, I suggest they compromise on some of the features in their cabinetry but not the quality of the cabinets themselves," says Woodharbor's Jill Lampe. "Accessories can be installed aftermarket, but a badly constructed cabinet will affect the entire project. They set the tone for the entire space."
Corey Gersdorf of AIM Kitchen & Bath agrees. "You can do another upgrade later on for things like countertops and backsplashes," he says. "But it's not worth compromising on the cabinetry. I think it's even worth spending on accessories up front. Things that make your cabinets more functional are worth the investment: drawers instead of undercounter shelves, pullouts, custom elements that fit the way you cook."
Moehl Millwork's Tina Noel says, "Sometimes a homeowner will attempt to paint existing cabinets to save money, but then they'll want to upgrade to a stone countertop. Unfortunately, old cabinets also have old drawers, old hinges, and old inefficient layouts. Putting a gorgeous new countertop over this is likely a mistake down the road. It's worth waiting until you can afford both."
Gersdorf says there are other areas where a good design partner can help you stay on budget and plan for upgrades later. "Undercabinet lighting or additional task lighting is a worthwhile investment because it can really make the difference in how your space feels and functions," he says. If the additional lighting is a budget concern, he suggests having rough wiring installed during the remodel and adding the custom lighting later.
If you have a bit more freedom with your budget, designers suggest splurging on key areas rather than just buying high-end everything. "The range area, especially with a nice hood, is a natural focal point in the kitchen," says Noel. "Many times, you see that from across the room, and it really stands out. So it's worth spending extra on this and enhancing that focal point."
Another area that really anchors a kitchen design is the island. Because the rest of the design choices literally revolve around this feature, Walker says it deserves special attention. "I advise clients to think about the island top as a piece of art. Having a simple countertop around the perimeter of the kitchen and then a special material for the island really catches the eye and accents the room."
Items like commercial refrigerators, wine or beverage coolers, warming drawers, and six-burner stoves are popular with homeowners who enjoy cooking and entertaining. "Often times our clients find investing in top-quality appliances, sometimes with custom features, makes their kitchen remodel even more satisfying," Gersdorf says. "If they like to entertain or bake, having appliances that make those activities more enjoyable just enhances the design."
The Bath
Depending on which bathroom is involved, designers offer different suggestions for prioritizing the budget. As with the kitchen, opting for quality fixtures should never be compromised.
"Faucets, stool, tub, or shower fixtures are key," Gersdorf says. "Buying cheaper options is never worth the little bit of money it saves during the initial remodel. They don't hold up as well, and they aren't as efficient, so they end up costing more in the long run."
He says flooring is another area where it isn't worth cutting corners. "Bathrooms are usually smaller rooms, so they don't require a huge amount of material for the flooring," Gersdorf explains. "Because of that, you can go for a better-quality material without blowing the budget. And good-quality flooring is always worthwhile here because you're often barefoot and the floor is exposed to moisture regularly."
Lampe suggests investing in a nice vanity, especially if it's in a guest bath. "It's usually the first thing people see," she says. "It should look great and be functional, too, so making sure it offers some storage is important."
Choosing the right big-ticket items in the bath has a lot to do with comfort and function.
Both Walker and Gersdorf say heated floors in a master bath are always worth the investment.
"It can add a couple thousand dollars or more to the budget," Gersdorf says. "But what it adds in comfort is huge."
"Even if a homeowner is trying to limit costs, this is worth doing because you can't really add it later," Walker says.
He says large showers are always popular with clients, too. "I've never had a homeowner regret a large shower. You have to make sure they're designed and installed correctly, but a spacious shower with multiple showerheads always holds its value."
He also advises homeowners to locate the shower valve near the door instead of directly below the showerhead. "Putting it just inside the door allows you to adjust the water temperature without getting wet," he explains. "It's another small design feature that makes a significant difference in the functionality of the space."
Lampe says designing an eye-catching tile wall is another worthwhile splurge in the bath.
"It can be costly to carry a tile installation up the entire height of a wall. But when you find a striking tile and design the installation well, it's a beautiful thing. Clients never regret it."
Ultimately, it's not about form over function or the other way around. As Gersdorf says, "What's worth the money to each homeowner has a lot to do with functionality. How do they use their space? What design issues in the current space aren't working for them? All the coolest design features in the world won't make up for poor function."
Style and substance are intertwined, and a good designer can help you create a space that utilizes both—and gets you the most for your budget, too. •
Resources
Corey Gersdorf AIM Kitchen & Bath
Rob Walker BLC Projects
Tina Noel Moehl Millwork
Jill Lampe Woodharbor