in the kitchen with…
Warren Larsen
He's ahead of the rising interest in
baking bread.
Story by Carol McGarvey
Photography by Ben Lochard
Featured in March/April 2021
Try his Recipes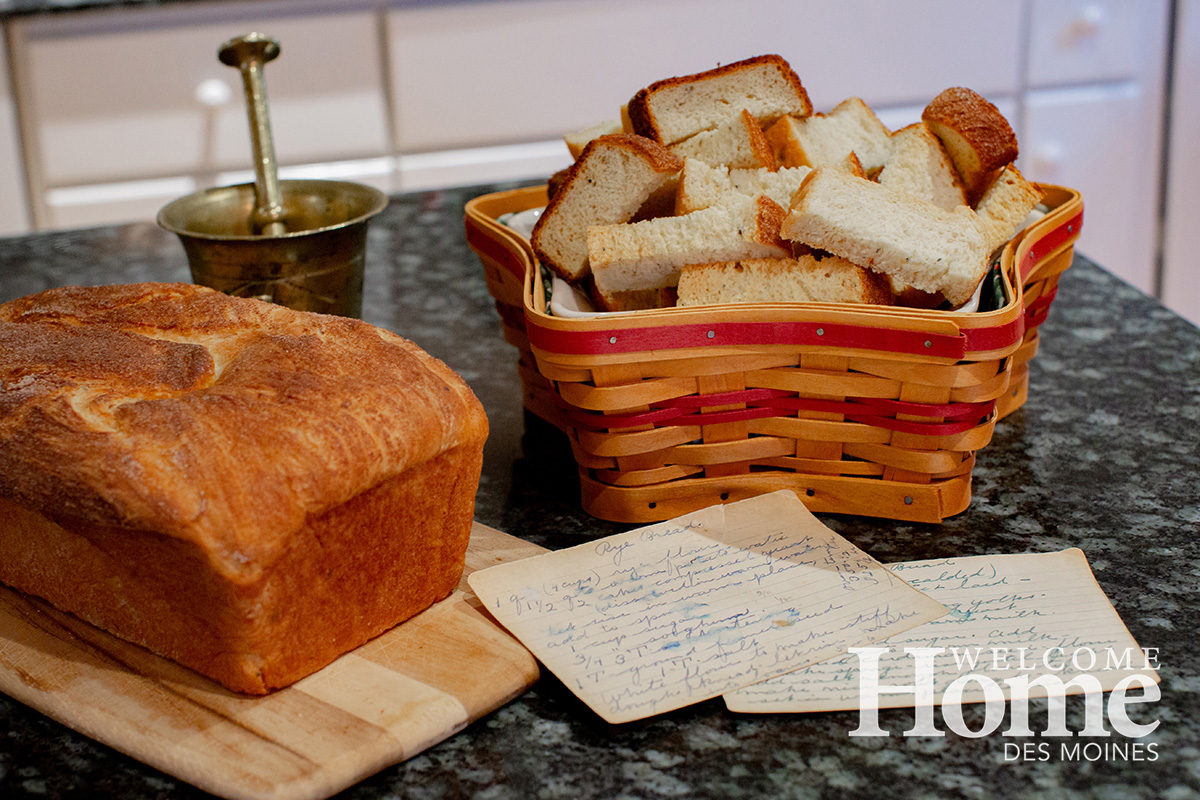 Share!
Everyone has a story, and we hope you will help us tell the tales of a variety of Des Moines cooks. Please send us your ideas. Tell us the names, contact information, and a little about your cooking friends. Contact us!
With more time at home during the COVID-19 pandemic of the past year, Iowans have turned to baking bread in a big way. They have retrieved bread machines from storage shelves, have dug out favorite quick and yeast bread recipes, and have started a feeding regimen for sourdough starter.
One busy guy, however, never stopped baking bread, especially those versions that honor his Swedish heritage. Warren Larsen of Des Moines wears many hats. He has been an IT (information technology) guy for 30-plus years.
Also, in 2013 he opened a busy full-service quilt and fabric store, Woodside Quilting, in northeast Des Moines, at 5630 NE 14th St., Suite A, turning his hobby into a business. The store started as a 10-×12-foot shop in his garage. It now has 4,000 square feet and 11 employees. His partner in the shop is his husband, Marty Beaver, a former banker.
Exact amounts
Warren has a longtime love for baking. He comes by it naturally. "My mother was busy raising five kids, but my grandmother, Mary Nelson, who lived next door, helped me learn how to make Swedish breads. She would always say to add a pinch of this or a pinch of that; the details were in her head. I pressed her on exact amounts. Because she was older, she got tired kneading bread. That's how I got started with her, by kneading the dough. That's what got me going."
Warren's family carries out its tradition of having a Christmas Eve smorgasbord for about 30 people, except for this past holiday, when gatherings were discouraged. The menu consists of ham, salmon, herring, Swedish meatballs, potato bologna, rice pudding, rye bread, parsley potatoes, Bondost (Swedish farmer) cheese, fruit salad, and spritz cookies.
For many years Warren and other family members participated in a huge Swedish meal at Union Park United Methodist Church. "It was known as the Swedish Methodist Church, and as many as 800 to 1,000 meals were served," he says. The tradition ended in 1999 because many of the planners and cooks were older.
The baker enjoys making Swedish rye bread; tea rings in the shape of wreaths, especially at the holidays; and also Swedish rusks. "Rusks are like biscotti, only I like rusks better than Italian biscotti," he says. "They are great to dunk in coffee, milk, and tea." On request, he mails boxes of rusks to his brothers in Florida and Colorado.
Baking-friendly kitchen
For 11 years after their deaths, Warren lived in his grandparents' home next door to his current home, which was the home he grew up in. "It was time for a ranch house. Too many stairs in their home," he admits. When he moved back next door, he remodeled the kitchen to have two ovens and an 8½-×3-foot island for his baking ventures. As special treasures, he saved bread-baking tools from his grandmother and great-grandmother—mortars and pestles, yeast bowls, tea ring pans, and bread bowls.
"I simply loved making bread in the same kitchen where my grandmother taught me," he says.
For five years he worked also part-time at Williams Sonoma at Jordan Creek Town Center because he loved being around kitchen items.
Besides breads, he loves to make other Scandinavian delights, such as tortes and "almond everything." He also enjoys making pecan and caramel rolls, yule logs, and Swedish raisin bread.
There's one mystery of his grandmother's baking that he never got the answer to: Why did she make her Swedish rye bread in a round pie pan and not in a rectangular loaf pan? While he'll never know, he does consider her training as a special legacy she passed on to him.
Now his goal is to find a younger family member to pass along the baking part of their family heritage. •