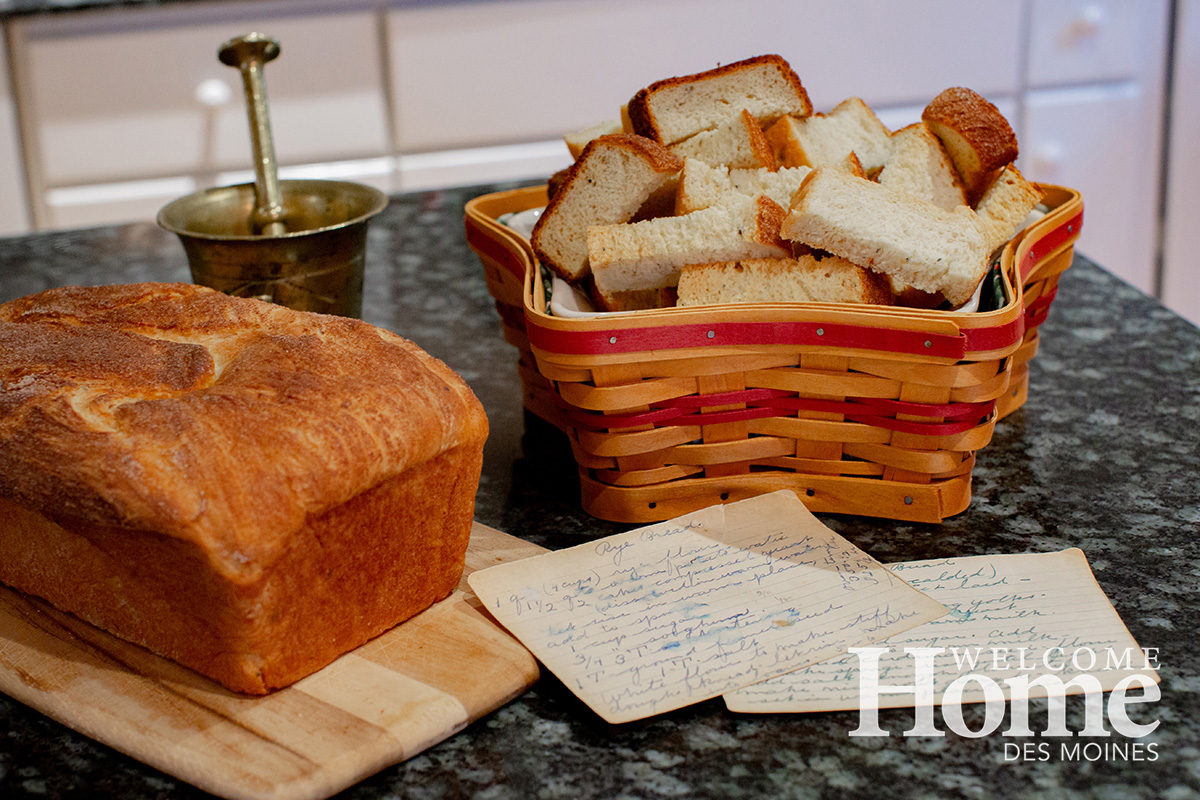 Grandma's Swedish Coffee Bread
Ingredients
2 tablespoons active dry yeast
½ cup warm water
1 teaspoon sugar
1 cup warm potato water*
2 cups unbleached white flour
1 cup scalded whole milk
2 eggs
¾ cup sugar
1 teaspoon salt
1 tablespoon oil
1 tablespoon melted butter
½ tablespoon crushed cardamom seeds**
4–6 cups unbleached white flour, enough to make a stiff dough
*I use leftover water from boiling potatoes like my grandmother did. It makes the water softer and helps the bread rise. Or you can warm some water with a small sliced potato on the stove.

**You can also use cardamom seeds or powdered cardamom; crush seeds with a mortar and pestle for better flavor.
Instructions
Preheat oven to 350°F. Mix yeast with ½ cup warm water. Stir in 1 teaspoon sugar and set aside in a warm place to proof for 15 minutes.
Mix 2 cups flour with warm potato water and milk in a large bowl. Add yeast mixture and let rise for about ½ hour. Whip eggs and sugar together in a mixer bowl. To it add flour mixture, salt, oil, butter, and crushed cardamom seeds; mix well.
Add enough flour to make a stiff dough. Knead on a hard surface for about 15 minutes. Place back in bowl to rise for about 30 to 45 minutes.
Place back on a hard surface, cut in half, and knead halves again for 5 to 10 minutes. Form the dough for whatever you are making—two loaves, round tea rings, or yule logs.
Loaves
Place dough in two 1-pound loaf pans. For bread, after the last rise, bake 30 to 40 minutes until golden brown on top. Brush with butter while still warm and let cool. Bread freezes well up to a month. Makes 2 loaves.
Tea Ring
On a lightly floured surface roll dough into a 15-×9-inch rectangle. If making dough for tea rings or yule logs, roll out dough with a rolling pin to ½ inch thick, brush with melted butter and sprinkle on cinnamon and sugar.
Spread with filling. Roll up tightly, beginning at the 15-inch side. Pinch edge of dough into a roll to seal well.
With sealed edge down, shape into a ring on lightly greased cookie sheet. Pinch ends together. With scissors, make cuts half of the way through the ring at cut top of dough every 3 inches for braided effect. Let rise for 45 to 60 minutes before baking.
Almond Cream Icing
For icing on yule logs or tea rings, mix powdered sugar, butter, and cream with almond extract in a small bowl to desired consistency; frost. Place candied cherries and slivered almonds or pecans on top of the loaves. If desired, you can also use a raisin, jam, or pecan-cinnamon-butter filling inside the tea rings or yule logs.
Rusks
If you make rusks, brush the tops of loaves with butter and sprinkle generously with cinnamon and sugar before rising. After the loaves of bread are baked and cooled, make 1-inch-thick slices, then cut slices 1 inch wide again. Spread slices apart on a baking sheet and bake at 150°F for 3 to 4 hours or until dried. Let cool and store in plastic bags.
Recipe courtesy Warren Larsen