In its second century, this home gets a reboot.
Story by Carol McGarvey
Photography by JACK COYIER, courtesy of Ted Lare Design + Build
Featured in May/June 2022
Mary Middleton and Suzanne Levitt of Des Moines love their new home so much that they endured three years of construction and remodeling to redo it the way they wanted. "We wanted to keep the integrity of the home, but at the same time open it up," Suzanne says.
Because older properties tend to have weak structures, renovating the house may seem difficult at first. Consequently, many homeowners demolish and rebuild older, weaker parts of their houses. For the proper construction of a new home, they hire excavating companies (such as GBC Excavating), home builders, and interior designers. Furthermore, such construction companies are more likely to use appropriate safety equipment and gear when working on weak home projects in order to ensure the safety of their crews.
There could be loose wiring in the walls as well as unstable brickwork, so the need for hard hats and insulating gloves would have been at the top of the list. Also, when renovating heritage and listed buildings, various types of permission are generally required to remodel the property. Nowadays, it is difficult to find traders who make similar-looking windows and doors to those found in these buildings. Nevertheless, there are few reputable providers (check out a company that provides Secondary Glazing for Listed Buildings) who can provide these unique and rare entryways for older homes. With the help of such traders, it may not be difficult to renovate an older property.
"Something about this house and property hit a nerve," Mary says. "We just got a feeling about it." Both women are semiretired now.
The home, built in 1914, had two stairways. The couple had one removed and added an elevator. Even if there was an elevator, given the age of the property, it would have surely required an upgrade or a complete change (somewhat similar to that "Sky Tower" elevator repair story). "We have a relative in a wheelchair, and, along with our own aging, this made sense," Mary says.
On the interior, many walls were removed for a free-flowing open-concept plan. Doorways to the sunroom on the main floor were widened, and the kitchen and dining area are totally accessible. Bathrooms were remodeled, heated floors were installed in them, and a new kitchen was added on one side of the main floor. The home, now with 3,000 square feet, combines the best of old and new details.
At the same time, on the lower level, a new garage door was added onto the room that had been a horse stable. The top floor was opened up into an apartment-size space.
LARGEST PROJECT
Crose & Lemke Construction did the remodel on the house. Ted Lare Design + Build worked magic on the landscape plan.
"Scott Crose brought us into the project," says Rachel Cox, a landscape designer for Ted Lare. "It's the largest project I have ever worked on, and I think it turned out beautifully." She worked on the project for a year and a half.
In the front of the house, instead of steps to the front door, Cox opted for a long and sloping walkway or ramp for accessibility using Unilock's Stone Cliff Grey natural stone pavers.
At the driveway, the mailbox is built into a brick column. A short and decorative Eden and Oakfield limestone retaining wall near the street adds interest to the front yard. A small edging of limestone defines a planting bed. Vintage plantings including Japanese maples, hydrangeas, and boxwood define the stately property. There's a bank of tulips in red, Mary's favorite color.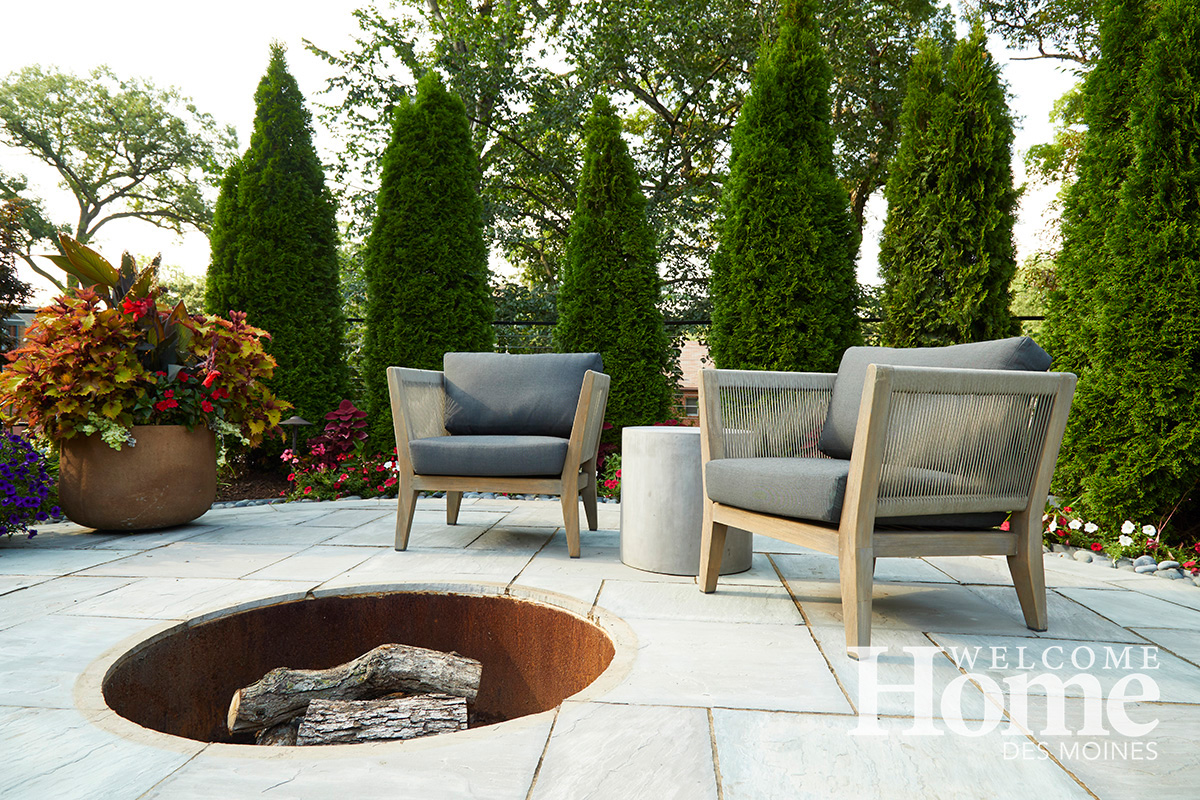 ANOTHER STORY
The back was another story, Cox points out. It features a new garage. There's a 17-foot drop from the house to the lower part of the property. That, of course, became an issue when creating the lovely 14- × 32-foot swimming pool. Almost 400 tons of Castlewood wall stone was brought into the backyard and down to the lower level of the large drop for a curved stairway and retaining wall.
"We installed an immense amount of tiling to build a 6,000-gallon underground cistern to hold all the water collected from the roof and patio surfaces," Cox explains. "It truly was an engineering feat."
For the pool deck, more of the Stone Cliff Grey pavers were placed in a random-style pattern.
The couple loves to entertain and now have the room to do it. On the east side of the home is the garden in what they refer to as the "sarcophagus," a tomblike open structure that is waist-high for easy access. There Suzanne has planted cucumbers, okra, strawberries, blackberries, and tomatillos.
On one side of the pool, crews added 'Emerald Green' arborvitae for privacy and also a firepit. As a decorative touch around the perimeter of the pool area, small Mexican beach pebbles were added in a trough. Coleus and hydrangeas were planted around the pool for color.
"This project was a totally rewarding experience," Cox says.
Mary totally concurs. "Des Moines is my hometown. And you know what? It's a very nice community with lovely neighborhoods and parks. In purchasing this property, it was so important to us to maintain the history of it and to take care of it."
If walls could talk. •
Resources
Remodeler Crose & Lemke Construction
Landscaper Ted Lare Design + Build