An Urbandale couple has built their third home, and it's a keeper.
Story by Carol McGarvey
Photography by Mirza Kudic, courtesy of Accurate Development
Featured in July/August 2022
Debra and Alan Alberto of Urbandale have built three homes. They don't talk about the first builder, but they can't stop talking about Accurate Development, builder of the last two.
The professional couple first became acquainted with Accurate when they lived behind the company's Hallbrook development. "As we got to know people there, we were impressed with the attention to detail and the quality of construction. When you start looking, you just want to buy," Alan says.
"The beauty of this build was the fact that the same design team was in place for the first home they built with us, which made everything easier," says Kevin Johnson, head of Accurate. "Alan and Debra had a list of what they would like. They are meticulous people and are so fun to work with."
EVEN BETTER
This new home in the Acadia development in Urbandale measures out at just under 7,000 square feet. "Their previous home was spectacular, and this one is even more so," Johnson says.
With a 14-foot decorative tray ceiling in the living area part of the great room and the 10-foot one in the adjoining kitchen, the home makes a dramatic presentation. The ceiling height differences act as a subtle definition of the areas.
The white kitchen, airy and delightful, features a massive 12×5-foot kitchen island and gray glazed subway tile backsplash. Five upholstered chairs sit at the island. Nearby is the more formal dining room area, complete with a built-in china cabinet. "The trim carpenters, Tyler Soethout and Ron Lewis, built that, along with decorative woodwork trim between the entryway and the living area," Debra explains. "They were amazing."
Floor-to-ceiling windows in the living area make a huge statement and bring the outdoors inside. Nearby is a whole wall of fireplace, television above it, and built-in cabinetry. "I would find all these ideas on houzz.com and show them, and the carpenters made it happen. It was fabulous," Debra says.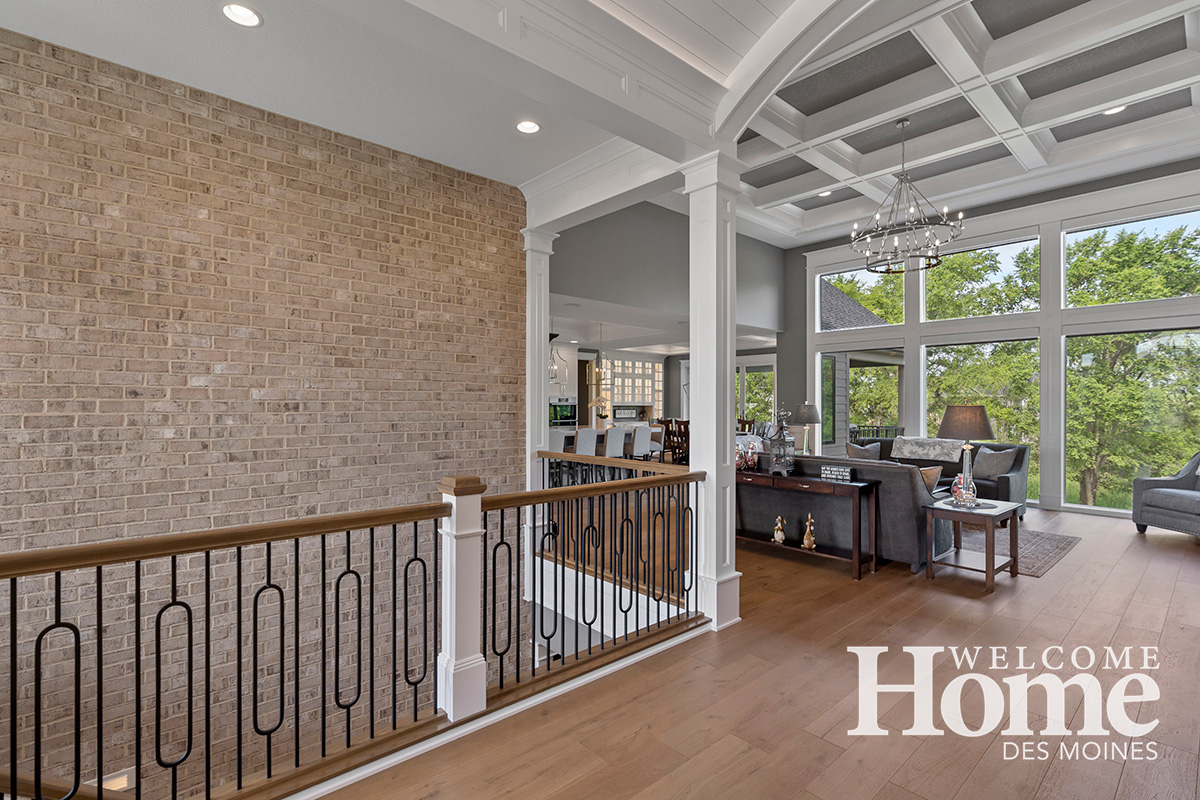 RESTFUL SPOT
Alan explains that the numerous Smart Home applications in the house contribute to the comfortable atmosphere of the home. "Nearly everything can be handled by a remote control or phone app," he points out.
The primary suite is a restful spot in gray and purple. It has a fireplace with mosaic tile, flanked by two windows.
Nearby, the primary bath suite is efficient and beautiful. For safety and ambient reasons, it has undercounter lighting, which is subtle and huge at the same time. The walk-in shower is one of the largest we have ever seen. There's also a large soaking tub. For a touch of bling, a crystal chandelier adds a sparkly touch.
The space has a large walk-in closet with waffle glass on the closet doors and a dressing area. Just around the corner is a laundry room.
Also on the main floor is a joint office with a wall of white shelves and two computer stations. A long window seat lends a touch of tradition.
Behind the kitchen is the drop zone with navy cabinetry and efficient spots for the couple's shoes in compartments. In that area is a guest room with three high windows and two tall windows and a bath.
Off the dining area is a covered deck, complete with fireplace, overlooking the wooded landscaped area below. It has a firepit, two water features, and six Adirondack chairs, perfect for entertaining outdoors.
LOWER LEVEL
On the home's lower level are an exercise room, storeroom, and a door with a cutout of a cat, perfect for storing the litter boxes of the couple's two feline friends. The lower level has two more bedrooms and baths.
A sunken living area, complete with huge sectional sofa and a 120-inch television, invites playing games and watching movies on the big screen. A bar area is perfect for entertaining. A garage door on the lower level is for accessing the riding mower. A second stairway goes up to the primary garage.
The home took 16 months to build because the Albertos totally thought through their design decisions. "The beauty of that is that Accurate didn't pressure us on moving faster. If we needed more time, we got it. We are slow to make our decisions, and the builders let us have that time. It was wonderful," Debra says.
So would they build yet again in the future? "No," says Alan. "We are done for a long, long time." •
Resources
Builder Accurate Development
Windows, doors Beisser Lumber
Plumbing fixtures Plumb Supply
Cabinetry, countertops CKF
Heating, cooling Des Moines Comfort
Flooring, tile Flooring America
Technology Elite A/V
Lighting E.W. Lighting Gallery
Appliances Factory Direct Appliances
Brick and stone Brickworks Supply Center
Landscaping Des Moines Landscape