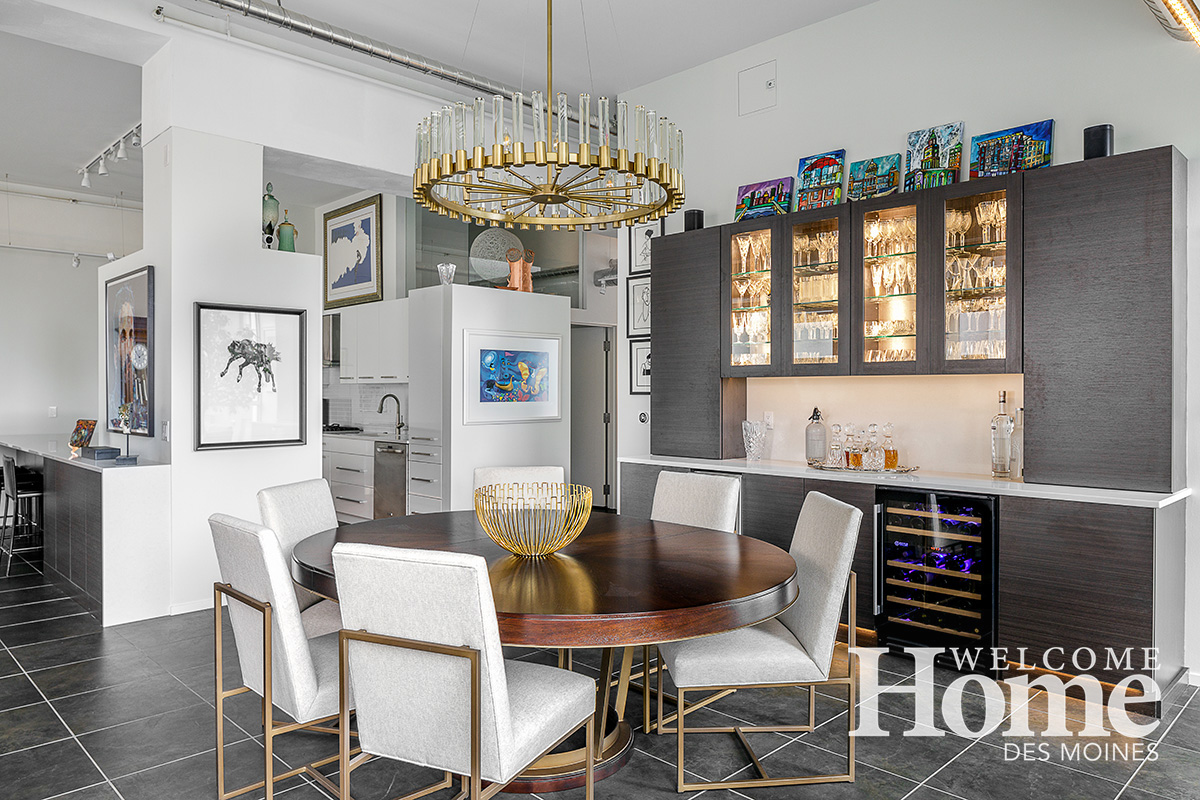 Moving involved downsizing and customizing new space.
Story by Carol McGarvey
Photography by Kerry Bern, Courtesy of Bryngelson Builders
Featured in April/May 2020
Byron Huff and Jim Anderson of Des Moines know all too well the joy and excitement of planning "new everything" when it comes to moving to a new home. It's also hard work blended with the thrill of the outcome. They haven't been disappointed.
For 16 years they lived in the Druid Hill townhomes with 5,000 square feet of living space. When they decided to move to the heart of downtown Des Moines, the square feet dropped to 1,750.
On top of it all, they decided the loft-style space they purchased needed a new look, not the traditional one they had developed in the townhome. With its primo corner location, enclosed patio, and huge windows, it called for a light and airy style.
"I call our new look transitional," says Jim. "It's not contemporary, but a blended look of mid-century modern color, textures, and surfaces."
"We truly downsized, along with completely changing styles," Byron explains. "But we also needed to update and reconfigure the new space, especially when it came to storage. We knew we wanted so much more than was there."
Found the Right Partner
They found Jesse Bryngelson of Bryngelson Builders on Angie's List, an online source. "They had a very detailed vision, down to additional outlets and switches necessary to control their whole-home automation. I loved that they had such a complete plan." Bryngelson says.
The plan involved moving some walls to create a huge walk-in master closet and gutting the kitchen for a sleek, modern look. For some design help, they enlisted the advice of Stephanie Burris at CKF, designers from Ethan Allen and Mitchell Gold of Chicago, and designer and friend Marge Pick.
Creating the closet meant moving walls, which took away space in the second bedroom, which is now a cozy den. "At first, I worried about losing guest space, but the beautiful Hotel Fort Des Moines is so close that it works out," Jim says.
The loft's entry includes a hallway that creates the just-right gallery space for the couple's bright and whimsical large art collection. Byron points out another storage spot that works well. "A small coat closet in the entry area, right by the kitchen, has a new life as a compact pantry. It's a better use of the space."
Bryngelson says, "Working in a condo or loft building with metered parking, keyed access, and the need to move large materials up and down through the building can be a challenge. The homeowners and building management team on this project were a pleasure to work with. We had access to the service elevator whenever needed. Plus, several residents offered their parking spaces for our use during the day. That really helped. We shut water off to an entire corner of the building on two occasions without any issues. Everyone was very accommodating. It's been a great working relationship."
Sleek kitchen
The sleek white kitchen with its stainless appliances is a study in efficiency. Cabinetry—high-gloss white-painted wood—sets the tone. Sparkling-white quartz countertops shine a light on the huge peninsula, which can be used for prep or serving from the kitchen side and a breakfast bar on the living room side. "The counter, from The Stone Shop, was nearly a full factory slab," Bryngelson says. "So glad we had the service elevator to get it up to the condo."
Extra-wide drawers on the kitchen side of the peninsula hold pots, pans, and serving pieces at the ready.
Bryngelson created an open bookshelf unit next to the refrigerator. It is used for holding myriad cookbooks and looks as if it's a built-in unit.
Floor lighting and strip lighting under the cabinetry add illumination but no visible outlets. Numerous outlets are tucked away in cabinet drawers and in special spots. For example, a toaster oven has its own cabinet space and an outlet so that it can be used without moving it. Lutron whole-house automation can be controlled digitally and remotely.
Subtle details
A subtle spot on the living room side of the kitchen shows the attention to detail. "If you're in the living room, you can see the cabinets in the dining room. Those facing the living room are the same brown/black. The kitchen is all high-gloss white," Byron points out. The built-in bar in the dining room is complete with an icemaker and wine cooler. "So, to make it all tie in better visually, the back of the peninsula under the counter also has the dark wood-tone look. That way it ties the rooms together visually," he adds. The large amount of storage under the peninsula can't even be seen.
The living room, bathed in northern light from large windows, has comfortable furnishings, including a leather sofa and teal barrel chairs.
The centerpiece of the dining area with its dropped ceiling is a dramatic round chandelier. The huge lighted bar showcases a collection of glassware. It also has hidden speakers and lights. A colorful custom painting of Chicago landmarks celebrates Byron's and Jim's time of living there.
The master bedroom is serene. A tufted headboard and a restful color scheme of gray and white with pops of red create a quiet mood. The master bath got a new vanity and a fixed-glass panel on the shower-tub. A frosted window affords light and privacy.
Byron and Jim, both central Iowa natives, have embraced their downtown lifestyle. They both can walk to work. Byron is with the Federal Home Loan Bank. Jim is CEO of the Des Moines Metro Credit Union. They also can walk to the grocery store and walk or ride bikes to the downtown farmers market and other events. Almost in unison, they say they are totally enjoying the downtown living experience and the community they are getting to know in their building.
So is Presha, their mini Morkie, a cross between a Maltese and a Yorkshire terrier. •
Resources
Remodeler Bryngelson Builders
Designer CKF
Designer Ethan Allen and Mitchell Gold of Chicago
Designer Marge Pick
Countertops The Stone Shop