A rural Iowa remodel blends old and new beautifully.
Story by Tracy Dickinson
Photography by Mirza Kudic
Featured in January/February 2022
Every remodel project is a group effort. Jean Nicholls of Moehl Millwork says that was more important than ever with one kitchen remodel near Prole. The original idea was simply to replace the cabinets. But the finished project is a beautiful blend of existing and new elements that was the perfect solution to the homeowners' needs.
"With every project, you have to work closely as a team," Nicholls says. "For this one, we had to take lots of pictures and measure so carefully since we were working with existing countertops and flooring."
That was the original plan.
"The old cabinets were oak," says the homeowner. "After buying a new couch and repainting all the walls, we realized we needed to change the cabinets. But I didn't mind the granite, so it made sense to try to keep it. And we didn't want to change the footprint either."
After contacting a friend whose husband is a contractor, the homeowners partnered with Jan Derscheid at Inner Dynamic in Eagle Grove. "I don't typically work in the Des Moines area," says Derscheid. "But M & J Construction, whom I work with often, connected me with the homeowners, and Jared Erickson from M & J did all the contracting for the project."
"As a territory designer for Moehl, Jan is one of my accounts. We have worked closely on projects so often that we can play ideas off each other and create a design that really works for the homeowner. That relationship is key," Nicholls says.
After Derscheid's initial conversation with the homeowners, she and Nicholls discussed products, trims, and options and made their recommendations.
"Even though I said we wanted to keep the granite, I also didn't really want to have to pick cabinets just to match it," says the homeowner.
"We gave it a valiant effort" Derscheid says. "We found some options that would work, and the paint color that had already been selected for the walls was a great shade. But in the end, changing the granite turned out to be a better decision in order to get the look the homeowners wanted."
"We already knew Jared," the homeowner explains. "So we were comfortable with him and his advice. The fact that he knew and worked so well with Jan and Jean helped, too."
She admits she questioned some of Derscheid's recommendations during the project but quickly realized this team knew exactly what they were doing. "Every time I said, 'I'm not sure about that,' we ended up coming back to that and doing just what Jan had recommended in the first place," laughs the homeowner. "I finally quit questioning her and trusted her. She was right every time."
Nicholls and Derscheid concentrated on creating a more-functional space in the original footprint in order to work with the existing flooring and lighting.
"My biggest issue with the kitchen before was that there just wasn't enough storage," says the homeowner. "I can't believe how much more they were able to create without changing the footprint."
Ironically, once the homeowners began to fully trust the experts' advice, they also felt more comfortable with bigger changes. "I was on vacation while they were gutting the kitchen," the homeowner says. "And I got to thinking about the floor and wondering if we were doing the right thing sticking with the existing tile."
"By the time they got back from vacation, we had some suggestions for them and were able to recommend a wood floor that worked throughout the main level of the home and really tied the space together," says Derscheid. "It was actually just the right moment to make that change because everything was out and we hadn't started installing anything yet."
M & J Construction was able to blend the various wood elements in the home so beautifully that it's nearly impossible to guess which were original and which were later additions.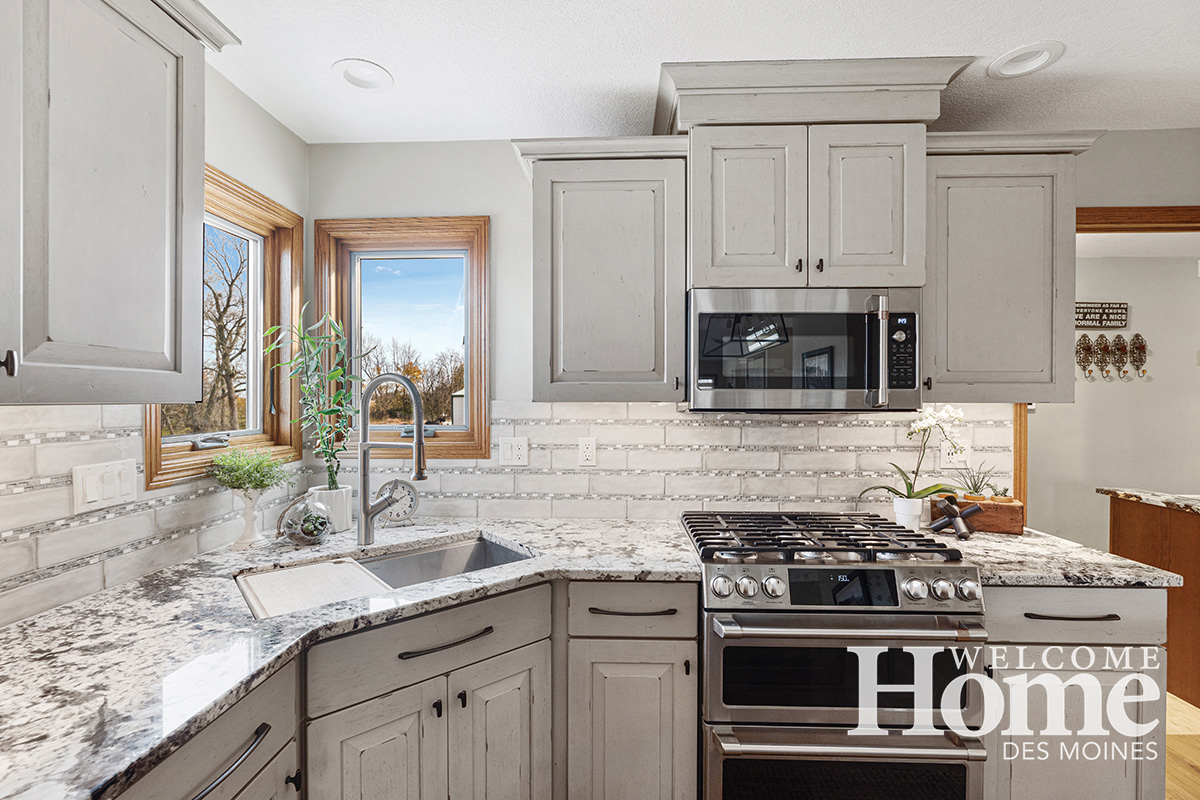 "We had just replaced all the windows," says the homeowner, "and we didn't want to replace all the trim in the house, too. It's just amazing what Jared was able to do with all those different elements."
Despite retaining so many original pieces of the design—light fixtures, trim, even the footprint, the homeowners are amazed at how much bigger the space feels and how much more storage they achieved.
The new bar area replaces a poorly designed hutch, now including custom storage and a wine fridge. Island storage features deep drawers for pots and pans and double-layer cutlery drawers to maximize the space.
The adjoining laundry room was also transformed. "There was just one little vanity-style cabinet in there originally," says Nicholls, "and there was so much unused space." Now a wall of gorgeous cabinetry offers overstock and pantry storage. And a deep sink not only serves laundry needs but provides the perfect spot for washing the family dogs.
"This project was unique from the beginning because we were working with very specific measurements and layout," Derscheid says. "But we've all been doing this a long time, and we work really well together as a team."
The finished result testifies to that.
"We really did just intend to change the cabinets," the homeowner says. "But one thing led to another, and it feels like a totally new space. Everything just blends beautifully." •
Resources
Remodeler Moehl Millwork
Decorator Inner Dynamic
General Contractor M & J Construction