Bringing an older home into Smart Home technology.
Story by Carol McGarvey
Photography by Le Photo Design, courtesy of Alair Homes Des Moines
Featured in Spring 2023
Growing up, Kristen Schooley lived in the burbs. Her family members lived in newer homes, and she went to Valley High School. "However, my best friends lived on the west side of Des Moines in older homes and went to Des Moines Roosevelt High School. That's where my heart was. I knew I wanted to be there."
Fast-forward to some years later, and that is where she is—in a 1926 Tudor-style home, and her two daughters, now 9 and 7, will go to Roosevelt. "I just love the charm and the details of an older home," she says. And that doesn't mean an older home can't be upscale and modern.
Kristen and her husband, Cory, purchased their home nine years ago. One bugaboo about it was a spiral staircase, which needed to come down. Turns out it wasn't up to code and shouldn't be used. The couple worked with architect Matt Palan to rework the situation. "In the end, we decided to add on a primary suite and live in the home as a ranch, all on one level," she says.
ALAIR HOMES
With Palan's plans, they engaged Andrew Long of Alair Homes Des Moines to handle the remodel, which would include a kitchen redo; a new bedroom suite with primary bedroom, bathroom, and huge closet; plus a powder room off a hallway next to a new laundry room. Kristen says newcomers to the home don't even realize that new wing isn't original.
Outside, there would be an 18-by-36-foot swimming pool, a new pool house with bathroom, and a deck area with firepit and a hot tub, a surprise gift from Cory to Kristen. Over the new bedroom area is a rooftop deck with a treehouse feel of looking over Waveland Golf Course next door.
"We worked through the COVID pandemic," Long explains, "so there were delays on the supply chain to get certain materials. However, Kristen and Cory had been good about making decisions early in the project, so that helped. If there was a problem, they were able to substitute and go with materials we were able to get readily." The project started in January of 2021, broke ground in late May, and wrapped up in November of the same year.
UPFRONT PLANNING
"What we loved about Alair is that we had ordered everything upfront, so we knew the costs. I had friends doing remodel jobs who were surprised when they got the bills for items they ordered later from other companies. We were pleased with how that worked for us," Kristen points out.
She works for Dotdash Meredith; Chris is employed by Wells Fargo.
Alair does custom homes and remodeling jobs.
Long says the kitchen was an easy remodel. "They loved the way the kitchen worked for their family. In order to keep a storage detail in a wide cabinet, we turned the wood-tone cabinets into white by refacing the doors into Shaker style and added a large island in bright blue. It turned out beautifully. Plus, we added engineered-wood flooring."
The kitchen opens onto a dining area/sunroom with an A-frame ceiling and skylights and a full view of the backyard. It was part of an earlier remodel. One step up from the kitchen is a welcoming family room. Alair added new flooring and a quartz hearth. Also, with lots of built-in dark shelving, the remodel included lightening the room by painting shelves white.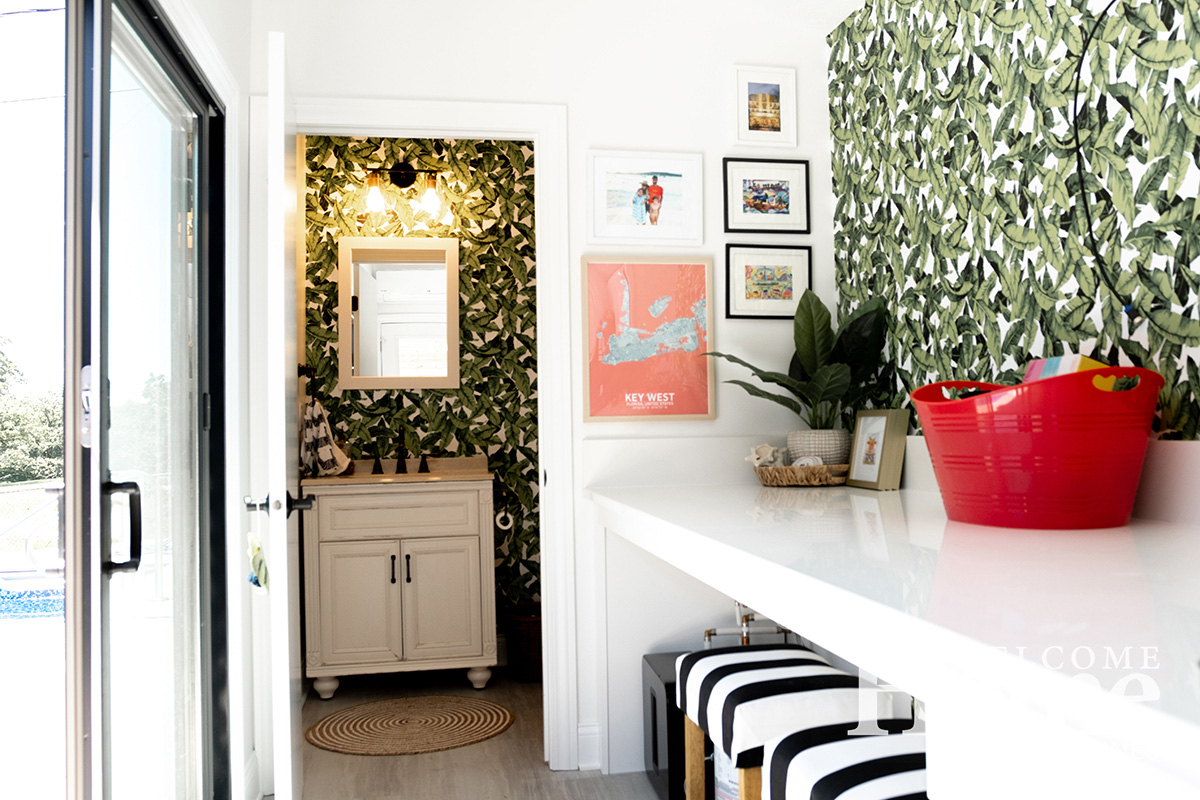 BEDROOM WING
Alair's crew removed a sliding door from the dining area to add on the bedroom wing. In addition, the new area features Smart Home technology, including a mini-split heating system in a picture frame setup so there are no heating ducts. Combined with a fireplace, heating and cooling are covered. Surround sound enhances the music always playing in the home. Also, large can lights have dimmer capabilities.
A feature wall in the bedroom also has a photo ledge on the wall behind the bed. The bathroom has a sculptural tub, a walk-in shower, and a large closet. There are security cameras, mostly for errant golf balls that routinely break four to six windows each year. "That works beautifully for insurance claims," Kristen says with a laugh.
Outside, Alair worked with Speck USA and Stonecross on the pool area, also with surround sound, and a gas firepit. A pocket door in the setup allows back-door neighbors to come through to join the fun.
"With all the changes, this still feels like home," Kristen says. "It's family-friendly, and everything is fixable."
And about the spiral staircase? It's still in place; the girls still use the rooms at the top for a playroom. "Our older daughter already says she wants to move up there as a teenager, so we have to address how to get regular stairs there," says her mother. •
Resources
Remodeler Alair Homes Des Moines
Architect Matt Palan
Pool Speck USA
Pool Stonecross