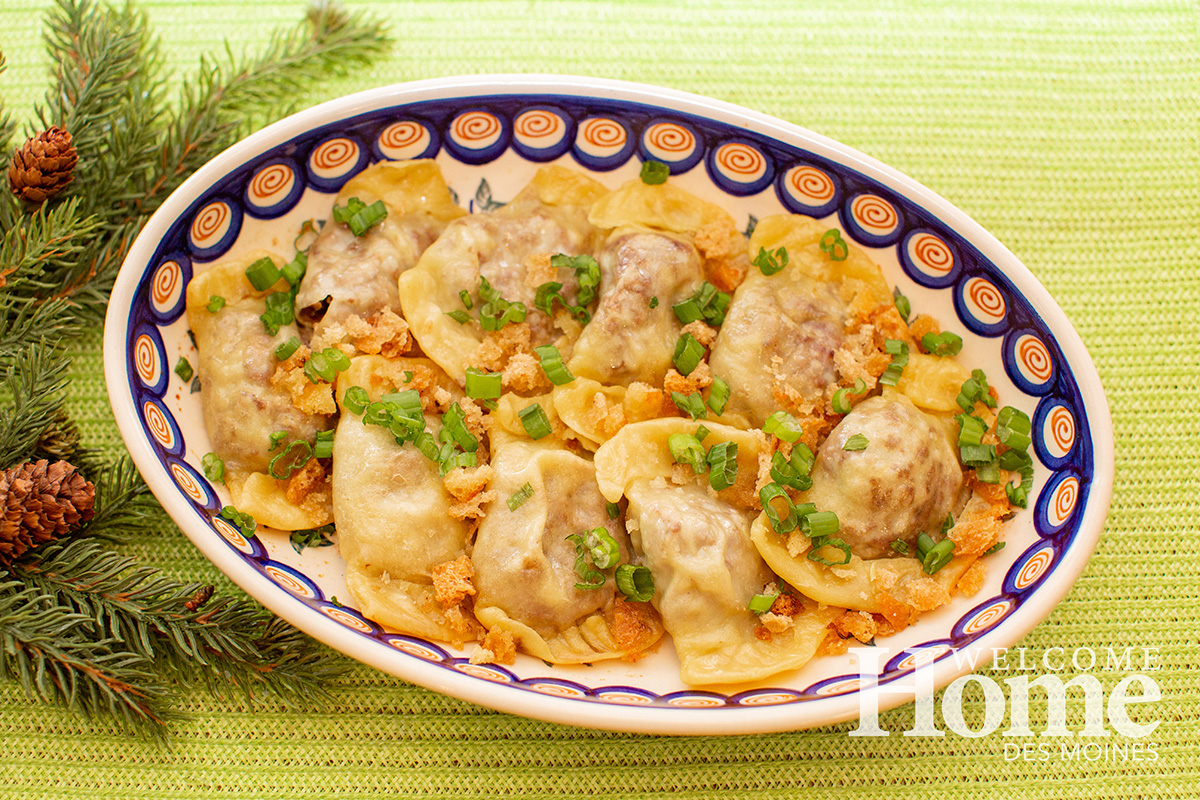 Polish Pierogi
Ingredients
Dough
2½ cups flour
½ teaspoon salt
⅔ cup water
2 eggs, beaten
1 teaspoon butter, melted
Meat Filling
3–4 cups leftover pot roast, ground
2 onions, chopped and sautéed
1 egg beaten
Cheese Filling
2 cups dry cottage cheese or ricotta cheese
2 egg yolks, beaten
2 teaspoons sugar
2 teaspoons butter
1 teaspoon grated onion
Dash salt
Sauerkraut Filling
1 15-ounce jar sauerkraut, drained
2 onions, chopped
Butter
Instructions
Dough
To prepare dough, combine flour and salt. Make a well in center of flour. Pour water, beaten eggs and butter into well.
Lightly knead dough, just until well mixed. Cover dough with a plate and let rest 10 minutes, while preparing filling.
Filling
(Choose a filling. Elizabeth makes the meat one.)
To prepare meat filling, grind leftover pot roast in a food processor. Add onions and egg; mix.
To prepare cheese filling, mix all ingredients.
To prepare sauerkraut filling, sauté onion in butter; add drained sauerkraut and mix.
Pierogi
Using a small amount of dough, roll out very thin. Make two pierogi at a time. Cut dough into two parts.
Place heaping teaspoon of filling on each piece of dough. Moisten edges of dough with water. Fold over and seal with fork tines.
Boil a pot of water. Drop about 10 dumplings at a time into the water. Simmer 2 to 3 minutes or until pierogi float to top. Lift out of water with a slotted spoon.
Drain well on paper towels. You may freeze at this point for later use.
To cook, defrost and put bread crumbs on top of pierogi. Fry in melted butter or margarine in large skillet on very low heat. Or, preheat oven to 325°F. In a baking dish, pour melted butter over pierogi and bread crumbs before putting into oven. Heat until hot. Makes about 21 dumplings.
Recipe courtesy Elizabeth Williams